News
MCC and Scantrust Unveil Complete Solution for Assisting with EU Wine Label Compliance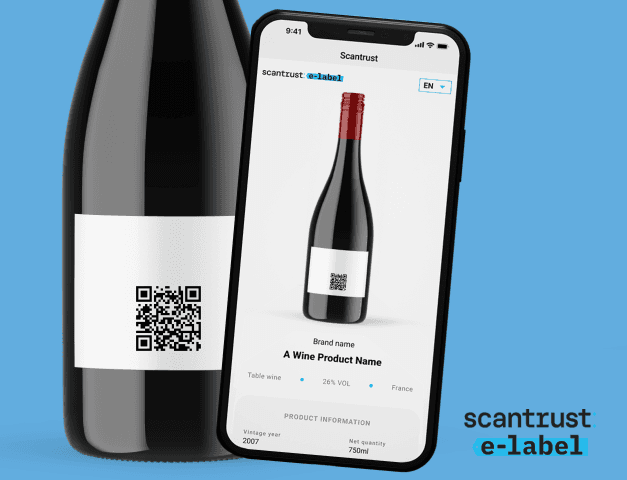 Scantrust, a leading software provider for QR-code based compliance, traceability and anti-counterfeiting solutions, has announced a strategic partnership with Multi-Color Corporation (MCC), the global leader in label solutions for wine and spirits. The new strategic partnership is aimed at helping wine producers all over the world comply with the newest EU wine labeling regulations. Scantrust's software and experience using QR codes on products is combined with MCC's expertise in label production and global presence to deliver an e-label solution that is easy to use, painless to implement, and assists with compliance for wine producers.
The EU's new wine labeling regulations require that all wine bottles sold in the EU market after December 8, 2023 provide specific product information about ingredients, allergens, and nutrition details. Scantrust and MCC leverage their respective expertise to provide a comprehensive solution to assist customers in meeting these requirements using QR codes on wine labels.
This collaboration will bring new features to help assist with regulatory compliance to MCC's customers across the globe. MCC's presence and capabilities are critical for Scantrust to produce high-quality, secure digital labels, maintaining the flexibility and reliability that Scantrust solutions are known for.
"Partnering strategically with MCC is a very welcome development for Scantrust as we continue to expand our global footprint and help more and more customers get in compliance with regulations through their product packaging and labels," said Nathan Anderson, CEO of Scantrust. "This partnership accelerates the rate at which we can deliver innovative solutions to the wine and spirits industries, in response to regulations that are designed to educate and protect consumers."
"We are excited to collaborate with Scantrust to deliver a comprehensive solution that helps our customers meet the EU's new wine labeling requirements," notes Nitin Chadda, Chief Innovation Officer for MCC.
"This strategic partnership will certainly be a testament to the value of collaboration and innovation in bringing solutions the industry requires to market and is expected to make compliance for wine producers, bottlers, and importers much more manageable."
About Scantrust
Scantrust is a connected products platform that leverages product packaging and labels for anti-counterfeiting, product traceability, and customer engagement benefits. Scantrust software protects brands from costly counterfeiting problems, enables detailed traceability data, and facilitates customer engagement, especially as needed for regulation compliance. Learn more at www.scantrust.com
About MCC
Multi-Color Corporation (MCC) is a global leader in label solutions, providing innovative and sustainable packaging solutions to some of the world's most recognizable brands. MCC is committed to delivering the world's best label solutions for their customers to build their brands and add value to the communities in which they operate. MCC delivers high-quality, cost-effective solutions to customers across a wide range of industries.