Resources
Cases
A Collector's Item with individual numbering
Schloss Reinhartshausen in Eltville-Erbach has a rich and significant past and are Pioneers in German winemaking history, having practiced Viticulture since 1337. They have produced Riesling, grown on some of the most famous vineyard sites within the Rheingau Valley, for centuries, including from the unique Rhein river island "Mariannenaue".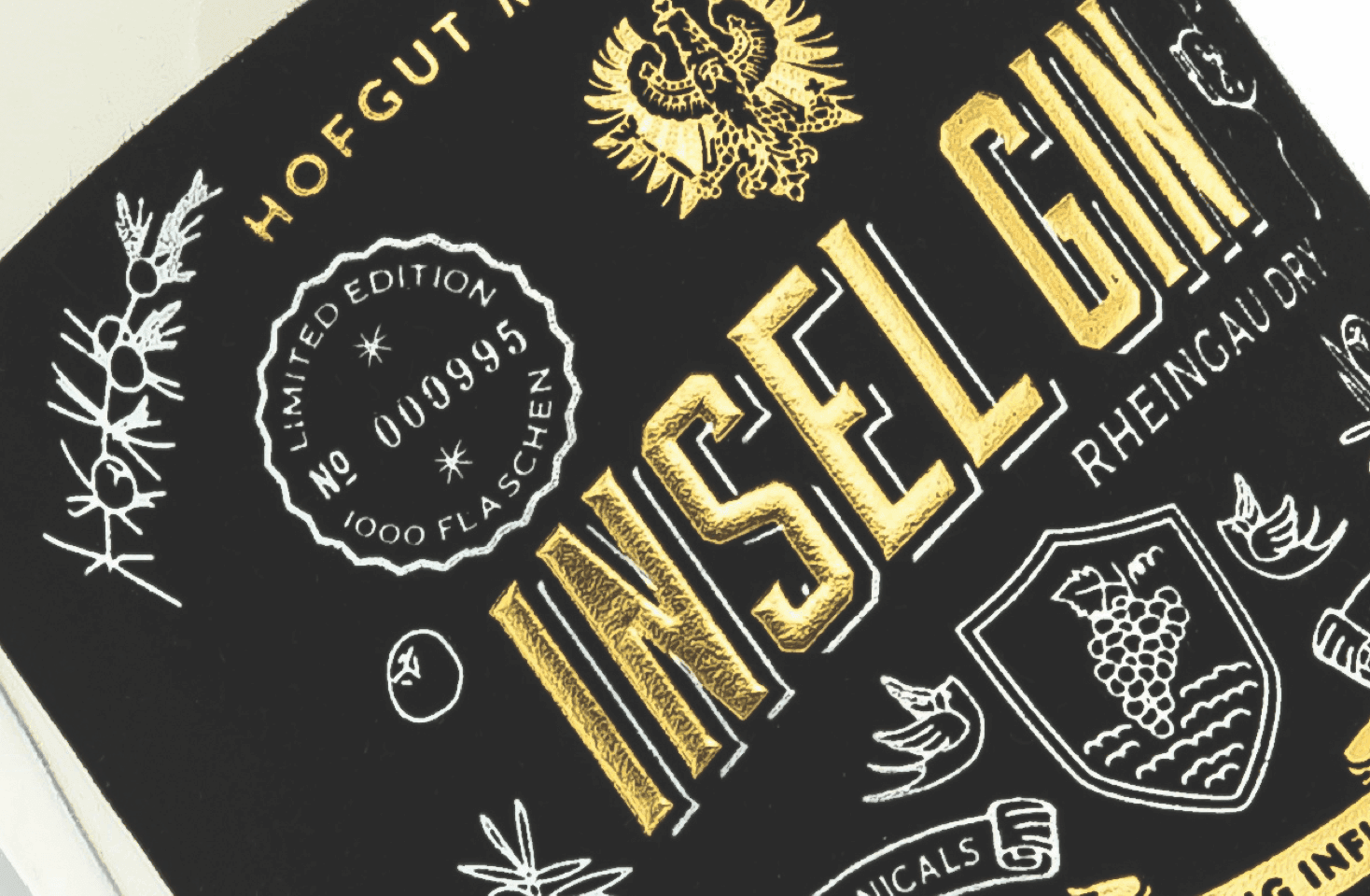 The Insel Gin, infused with wild herbs from the island and distilled using the estate's very own Riesling, is a Craft Spirit Product with fantastic aromatics. Its' individual style is enhanced by the wild botanicals native to the island and maturation in Riesling casks. From the wild hops which also thrive between the vines, Schloss Reinhartshausen produces a traditional and rich Craft Beer.  
The Estate`s goal was to produce a Gin label depicting not only the timely craftmanship necessary and carried out by hand, but also one which reflects the limited edition through individual numbering from just 1 to 1000.  
This impressive Island Gin with its' personal touch and small production quantity, deserved a label of distinction.  
For the desired special premium and tactile feeling, a black velvet substrate was chosen and in combination with multiple foils and micro-embossing and also the embossing of the lettering, beautifully enhanced. The individual numbers, applied using silver hot-foil, soon turned this special Limited Edition Island Gin into a collector's item.  
This was a product so successful, that it was sold out almost before it was launched.  
We needed a flawless technical solution for the perfect presentation of our product. Material and individualisation were the decisive factors. Having compared several printers and their capabilities, we soon decided on MCC. This proved a worthy decision, our expectations were surpassed!" 

Martin Vogel, Cellar Master and Production Manager Schloss Reinhartshausen