Resources
Cases
Coonawarra label captures a milestone in history
The Brand Family have a long history in Australian agriculture and especially the Coonawarra wine region.
Owner and fourth generation vigneron Sam Brand, wanted to tell a story on every label and capture the essence of their brand, the heritage of their family and Coonawarra.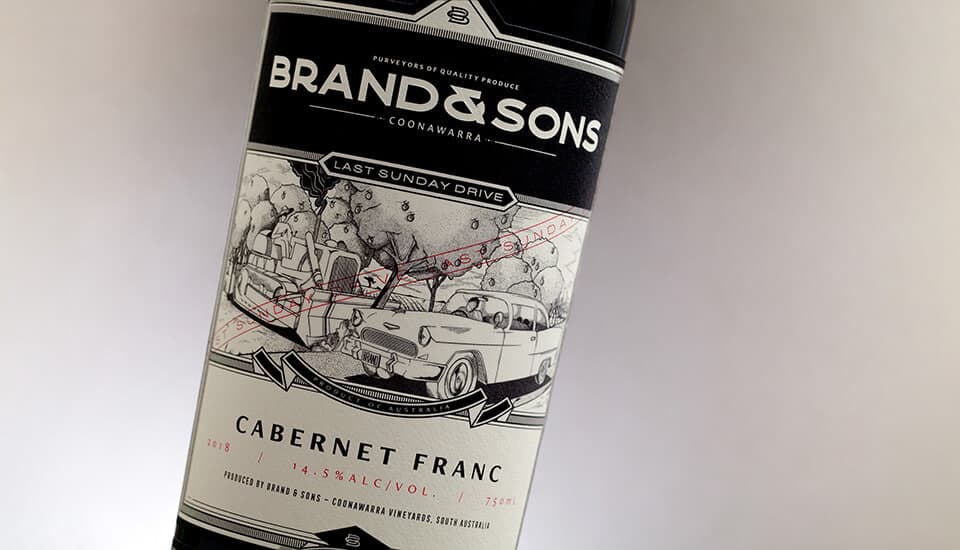 In summer 1973, a rusty bulldozer rumbled to life, signaling the end of 'the colony' and a distinct lowering of the Coonawarra skyline. For almost a century, South Easterners flocked to Coonawarra for a Sunday drive to collect the bountiful apricots, apples and pears which grew on the famed red Terra Rossa soil. But as the favour of wine increased, the fruit trees were felled and on a warm summer day in 1973, the last commercial orchard on the property of E & N Brand & Sons was demolished.
The Last Sunday Drive
In a nod to the story of his historic property, owner Sam Brand wanted to replicate the look and feel of a label from the 1950s. Designer Adam Monster created a concept using colours and embellishments reminiscent of that period.
'The Last Sunday Drive', one of four wines in this series, was based on the true story of vineyards replacing fruit orchards in the well-known Coonawarra colony. The team at MCC Australia worked closely with the designer to choose stock and embellishments that would bring the replicate-style labels to life. Printed on the MO3 at the Mile End South site, the drawings were originally sketched then handed to the designer to fit into the artwork.
It was important that each label told a story and had a look of authenticity. Using an older design style and illustration as a point of interest combined with the modern finishes allowed the finished product to have a real sense of depth. Working with MCC, we were able to shape layers within the frame and create life in the illustrations.
Sam Brand, Owner, Brand & Sons