Resources
Cases
Dove Christmas Cherish Campaign in Malaysia
Dove has grown from a Beauty Bar into one of the world's most beloved beauty brands, accomplishing strong brand loyalty. Campaigns such as Real Beauty has reaffirmed its reputation of a brand that cares about women.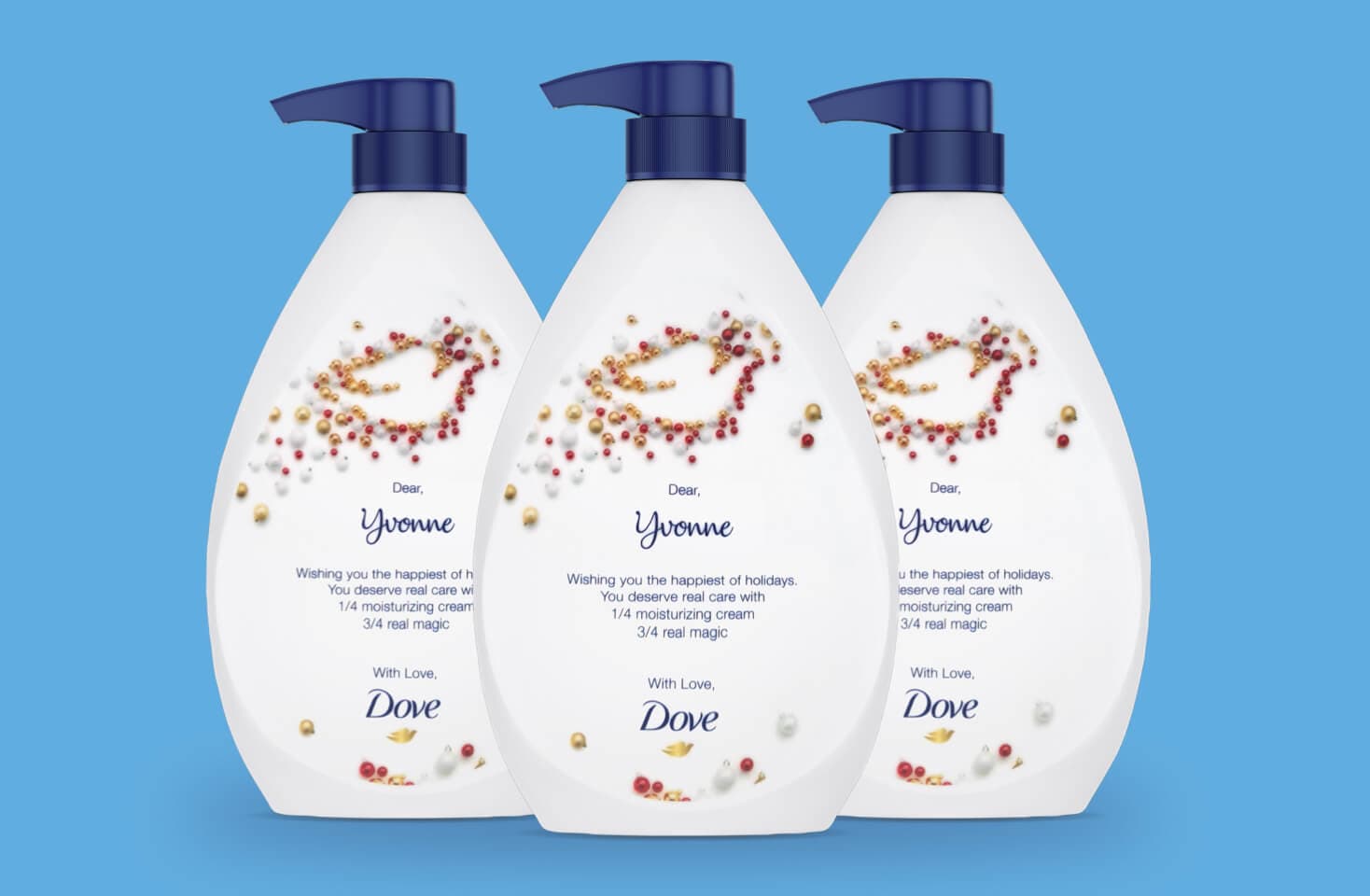 Clearly, consumer connection is key for Dove, to take this a step further, their team in Malaysia embarked upon a customized Christmas campaign, following on from a successful Mother's Day event.
Leading relevant campaigns in the digital space
According to Epsilon, 80% of consumers are more likely to make a purchase from a brand that provides personalized experiences. As part of a Christmas campaign, Unilever joined forces with Lazada to launch a personalized shampoo and body wash under Dove Masterbrand in the Malaysia market.
Lazada Group is Southeast Asia's leading eCommerce platform, offering a smarter way to shop. Lazada connects consumers to brands, creates customized experiences, and has evolved into a retail destination.
The vision: 1st ever limited edition gift bundle in e-commerce
The brand's vision was to combine gifting plus personalization plus season into one campaign. The idea is that the consumer can personalize their own message on the label upon ordering within the Lazada platform, thus resulting in a uniqueChristmas gift.
Having activated a successful Mother's Day campaign, the brand team wanted to extend this into the Christmas period. MCC was invited to review the new campaign and immediately stepped-up with a solution using our HP Indigo.
A variable solution
Our variable digital printing solution allows for complete personalization, whereby each label can hold unique information. When completing the online purchase, consumers could enter their own information such as the recipient and sender's name along with their personalized messages!
With a combination of variable and pre-planned data, every label could be printed with a unique Lazada purchase barcode. Each item ordered was then scanned and processed according to the purchase ID which prevented any sender mix-up.
2019 Malaysia Dove Christmas Cherish Campaign launched across multiple touchpoints including mobile and web platforms, driving above average conversion rates. Fulfilment was completed smoothly, to about 3000 orders in a week!
The team at Unilever, Chui Yen, Yee and Evonne Lim were delighted to report that the campaign resulted in 12 times the sales increase vs the non-promotional period.
Digital Print was the ultimate solution to help Unilever Malaysia in launching this meaningful campaign successfully. We are sure that many similar campaigns will follow."
Joanne Woo, Country Sales Manager at MCC