Resources
Cases
Flexible monitoring devices for infants
Incereb searched for a durable solution for their sensor pad medical device. The end product needed to be flexible and durable at the same time. Read the full article to see how we solved this challenge.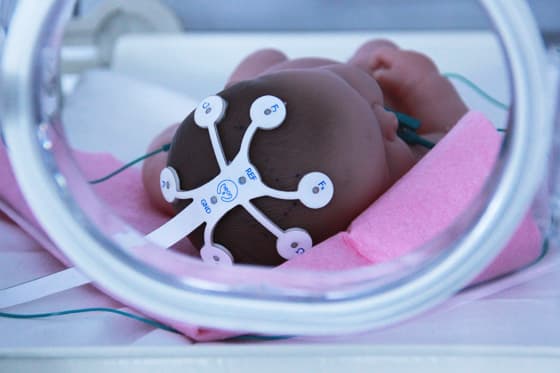 Incereb is a medical device company with over 20 years' experience in clinical neurophysiology and medical device development. The company designs and develops disposable physiological monitoring sensors, including Electroencephalography (EEG) and Cerebral Function Monitoring (CFM) for use in The Neonatal Intensive Care Unit (NICU) on term and preterm infants (neonates).
The technical challenge
Incereb developed a neonatal EEG sensor pad which measures minuscule voltage fluctuations resulting from ionic current in an infant's brain. Incereb required a technical, strategic supply partner with expertise and resources in the area of conductive inks, adhesives and foams that could manufacture this kind of technical device. 
It was crucial to the success of the product that we found a supplier with the technical expertise and knowledge we could trust to bring this project to market.

Jim Roche, CEO of Incereb
The solution
MCC utilized flexible print intelligence combined with carefully selected foams and adhesives to ensure the product was able to form to the infant's head while also meeting the highest standards set by the medical industry.
The complex fabrication of the foam sensor pad was produced in separate stages and included numerous technical processes from precision die cutting to printing conductive and dielectric inks. For the project to succeed it was imperative that the correct materials and adhesives were selected, as the end product needed to be flexible while also being durable. 
At final assembly all layers of the product were combined and individually tested to ensure a 100% functional end product.
Through on-going research, development and collaboration the MCC Team produced an industry leading device for Incereb, which requires minimal training, is non-invasive, has universal connectivity to all brands of monitoring equipment, and is single use.
The product was chosen as the winner of the Print Business Innovation Award for the 2015 Irish Print Awards.
The attention to detail at every stage is MCC's basic principle for high product quality and a professional finish. From the initial prototype phase through to production we were able to place our trust in the company and have complete confidence in its capabilities.

Jim Roche, CEO of Incereb