Resources
Cases
Goose Island leads the market with promotional pendant labels
Goose Island's Bourbon County Stout broke the mold back in 1992 when they brewed a stout then aged it in barrels that previously held Jim Beam Bourbon.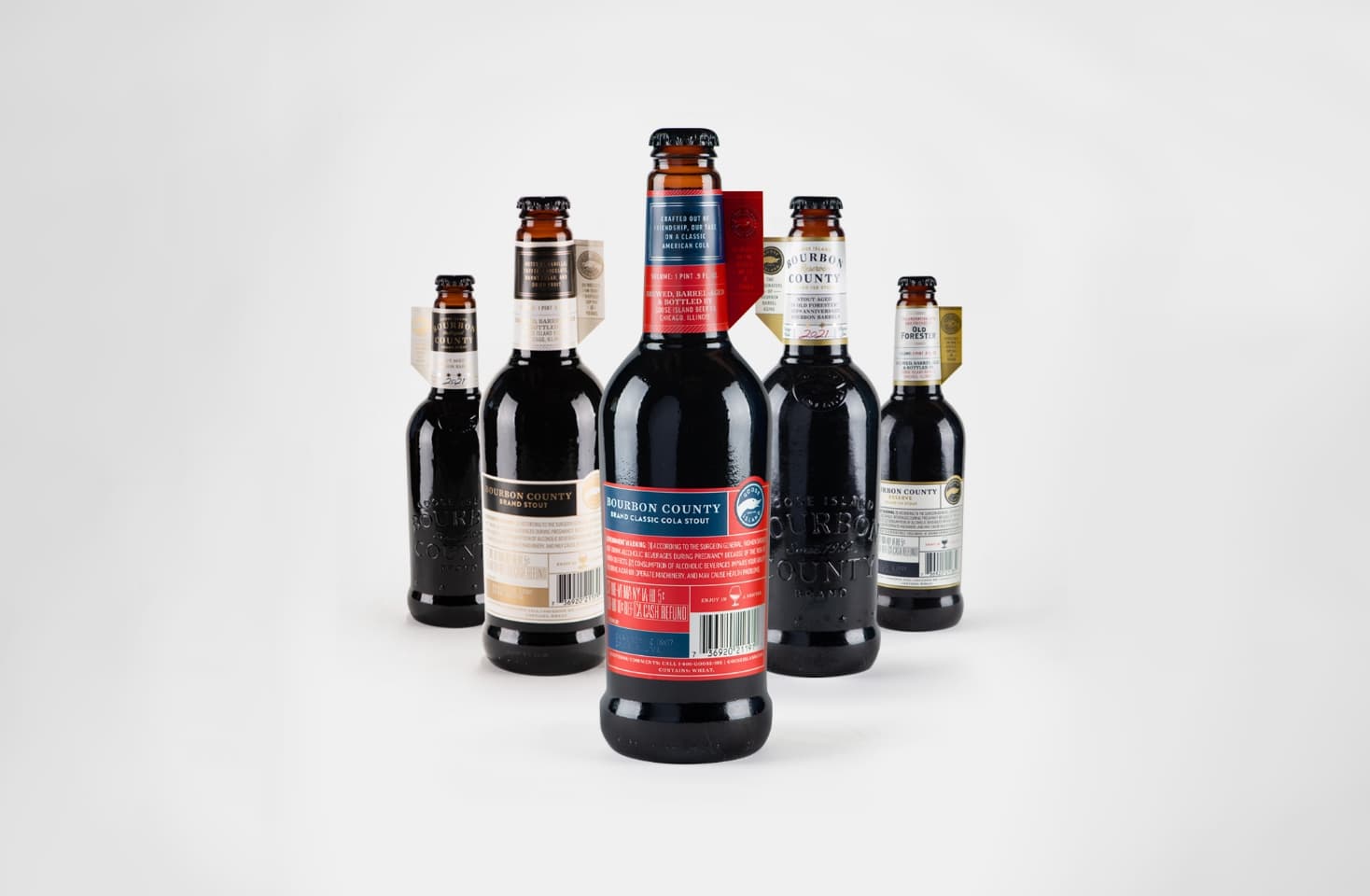 Year on year the brand's goal is to uphold the integrity of the original recipe and make the best Bourbon County Stout possible. The rich Imperial Stout is aged in freshly emptied bourbon barrels from a mix of distilleries for 8-14 month and then blended together. 
Packaged in a custom, embossed bottle the brand challenged MCC with creating a premium neck and back label. MCC executed a full wrap label with a 5/8˝ tab that pops out from the bottle. Special treatment is applied to the neck label to allow for two-sided printing of the pendant and to ensure a perpendicular shape once applied. The back label was tapered to match the narrowing of the bottle with a custom die shape.
Any beer that includes the neck label from Goose Island Beer Company signifies that the beer comes from the Goose Island Barrel Warehouse. 
The neck label substrate is a proprietary construction created on press and was developed by MCC, specifically for the pendant style neck label. The end result is a premium label that highlights the details of the brew in an appealing manner while standing out from competitors on shelf.
The customer was thrilled with the pendant neck label, as it successfully draws consumer attention at the shelf and highlights Goose Island's legacy as the originators of bourbon barrel aging.
Goose Island and MCC worked on this project in a collaborative manner with the intent to ensure the final product achieved the premium and distinctive design fit for this iconic brand while also mitigating production inefficiencies. Because of MCC's intimate knowledge of the application process, we were able to create a construction and image that not only achieved but exceeded the expectation without any negative impact to production. The project was a complete success and has been used on every Bourbon County Stout bottle since.

Brian Fischer, VP Sales NA Beer at MCC