Resources
Cases
How Brothers Drinks achieved 164 tons of label waste reduction
Learn the benefits of implementing a liner recycling program in the post-application process from a collaboration with MCC and a UK beverage company.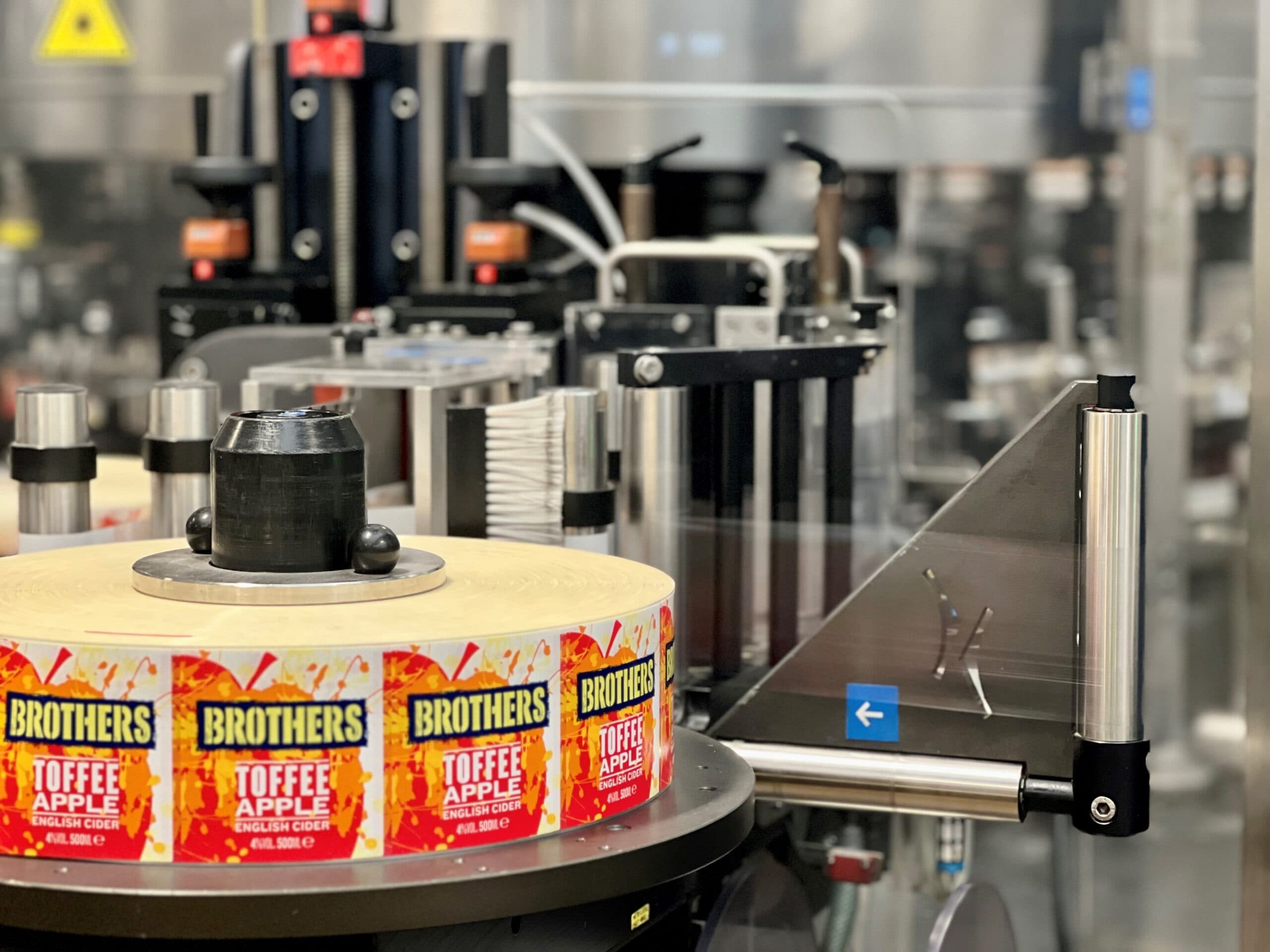 A partnership that extends beyond label production
Brothers Drinks Co., a cider brand, has been working with MCC to produce premium pressure sensitive labels for their suite of beverages across the UK. In the last two years, both companies have seen a significant push in R&D efforts to be more sustainable and successfully recycle the PET backing from labels on a wide scale.
On a mission to be a trailblazer with their own sustainability efforts, Brothers Drinks Co. joined forces with MCC and Avery Dennison to implement a liner recycling program across its sites at Shepton Mallet in Somerset.
Challenges we overcame when implementing the new program:
Introducing a new process at scale within a large organization: Ensuring there's internal alignment is key but can be tricky to navigate.
Showing ROI on the monetary and spatial investments: Not only is it important to factor in any financial implications, but space is also usually a premium in factories. Having a decent-sized box on a pallet in the middle of the operation is something to account for.
Storage of the liner material prior to collection: Companies have to be able to store ideally 16-24 pallets worth of material to justify the cost of the transport associated with collection.
Understanding what goes into a successful trial: If the initial trial doesn't work, the company recycling the material will reject the delivery and refuse to take additional material. What is delivered has to be high quality and free from waste materials.
How did MCC add value to the liner recycling project?
The development of Avery Dennison's AD circular UK scheme is a great example of the positive impact collaboration can bring about. MCC label experts were instrumental in implementing the new program, providing guidance and support every step of the way. The scheme demonstrates how we are influencing the wider economy to be greener and more sustainable. 
I wanted to establish a clear route for recycling at Brothers Drinks and in early 2020 I outlined the issues I was seeing to Andrew Douglas (Account Manager at MCC). Andrew used MCC's influence and our purchasing power to get the scheme started in the UK. There were many more parties involved, however without the driving force from Brothers Drinks and MCC the scheme wouldn't have arrived in the UK.

James Showering, Procurement Manager, Brothers Drinks Co.
The overall sustainability impact of the PET liner recycling program
Thanks to the Procurement teams engaging and leading this initiative, plus insights and cooperation from MCC and Avery Dennison, the new recycling program for Brothers Drinks has led to widespread adoption. In addition, they've clocked some key quantitative advantages:
164 tons of used liners recycled annually
Cost savings on current recycling streams
Achievement of sustainability goals and general direction of right thing to do
Now that a clear recycling and trial process has been implemented, Brothers is successfully set up for continuous collection service.  
Read more about this success story from Brothers directly: https://brotherscider.co.uk/pages/sustainable-at-our-core