Resources
Cases
Limited Edition Labels for Dawn's Dish Soap
For 40 years, the International Bird Rescue (IBR) has been using Dawn to clean/rescue birds and other animals from oil pollution. In order to commemorate such a great milestone, P&G came to Multi-Color to make a specialized label showcasing their partnership with the IBR.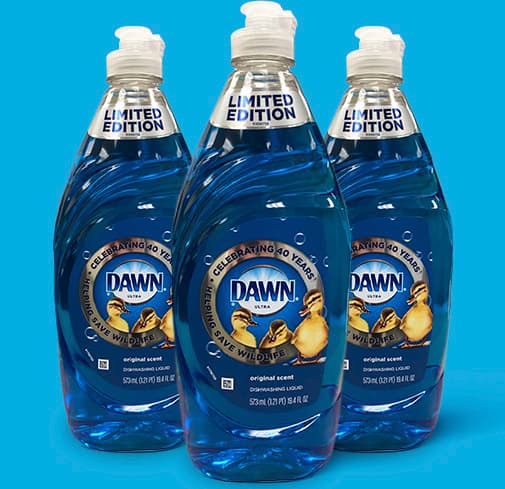 A special label for a special occasion 
The Dawn brand wanted to make sure their new limited-edition labels would stand out on shelf. To do this, Multi-Color added several embellishments to their label. To bring extra attention and make sure the consumers' eyes were drawn to the "Celebrating 40 Years" part of the label, MCC incorporated increased cold foil and matte varnish. Dawn also added a gloss varnish to make the bubbles and ducks pop against the matte background. To take it a step further, high luster silver ink and cold foil was also added to the neck label. Secondary labels don't usually have a lot of embellishments, so this really helped bring more stopping power to the product.
Teamwork makes the dreamwork
Adding many embellishments and varnishes often create challenges with tight registration. MCC tackled this challenge by collaborating with P&G and their artwork separation partner. The result was a visually stunning label that didn't require any sacrifices to the design intent. P&G was pleased with the FMOT (first moment of truth) the label provided to a consumer and believes the label is an excellent representation of the notable partnership they have with the IBR.
Adding embellishments to this label was a great way to bring more attention to the notable partnership between P&G and the IBR. 

Shayne Kitts, P&G National Account Manager at MCC