Resources
Cases
Optimist Brewery pays it forward with creative smart labeling
Brand new brewery launches the first beer cans with QR code technology, allowing customers to 'tip' the brewer.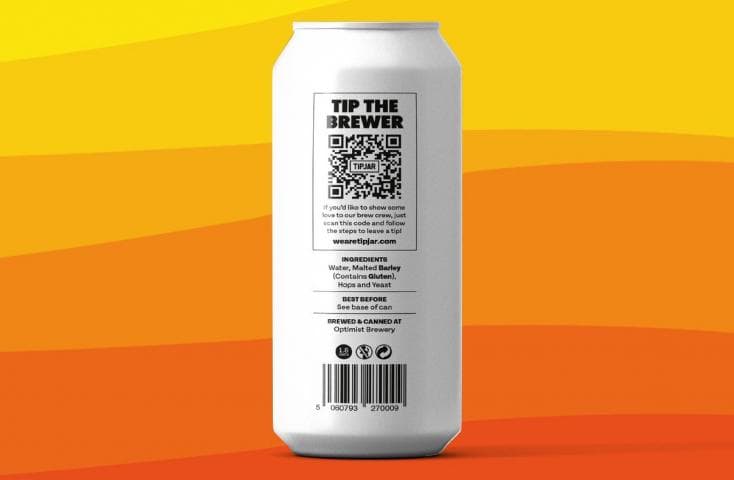 Optimist Brewery has teamed up with TiPJAR on the launch of its first-ever brew, Penny Drop Lager – a deliciously innovative can with a conscience. The soon-to-launch brewery is set to make a strong entrance into the drinks industry, being the first brewery in the world to allow customers to show their appreciation to the brewer by directly tipping them, as well as giving a share of each can sold back to the bartender. With the help of digital tipping platform TiPJAR, each can sold by Optimist brewery will feature an integrated QR code that allows this to happen. 
Born in Leeds during the recent lockdown, Optimist Brewery was set up by founder James Douglas (Co-Founder of Red's True BBQ) with an aim to craft a debut can with a difference that will help give back to the hospitality industry that has been so heavily affected by COVID-19. With the support of James Brown (Founder of TiPJAR and Retail Director at BrewDog), Optimist Brewery is now launching their very-first lager, Penny Drop, which is set to make this dream a reality, with the hope that other breweries will follow in their footsteps.  
Fittingly named Penny Drop Lager, the brewery proudly shares 10p of each can with the hospitality professionals that play a key part in getting the can to the consumers. 10p doesn't sound like a lot, but when you consider the average bartender sells over 1,000 drinks a week, those 10p's soon add up. Penny Drop Lager also allows customers to show their appreciation to the person who actually brewed the lager by tipping the brewer through TiPJAR's integrated QR code technology. Tipping the brewer is as simple as scanning the QR code with a camera phone and then choosing the amount desired, being a seamless and transparent system.  
The concept 
Optimist Brewery approached MCC Daventry with this unique idea that could incorporate a QR code, and achieve their desired look. The label itself was a white PP substrate, printed flexo with a unique, rough sandpaper varnish to provide a paper feel.  
The idea for Optimist Brewery was born during lockdown, a time of incredible frustration and uncertainty for everyone, especially for those in the hospitality industry. Working with MCC to achieve this first-ever concept has been fantastic. Their knowledge helped us to select the right material and print technique to ensure we produced this simple, but standout, label promoting our innovative way to pay it forward. 
James Douglas, Buyer, Optimist Brewery 
TiPJAR is the twenty-first century solution to the age-old issues facing traditional tipping practices. Founded in 2019 by James Brown – Retail Director at BrewDog – TiPJAR is a system where customers can transparently and directly tip individual employees. The system uses high-tech integrations to table payment apps, credit card machines and in some cases QR codes, it is part of the tech revolution that comes with the rapid implementation of cashless operations across the hospitality sector. TiPJAR enables customers to tip individual staff and teams directly, it provides transaction level transparency to the staff and empowers them to manage tips as they wish, taking the administrative pressure off busy operators.