Resources
Cases
Paradise Rum Brings the Beach Alive with Labels for Debut Range
Learn how we helped start-up distillery Paradise Rum develop a unique set of labels for their debut spirits range, featuring our Pearlescent Patterned Paper, Naseby Ice Varnish, and a glossy high build embellishment to evoke the feeling of paradise.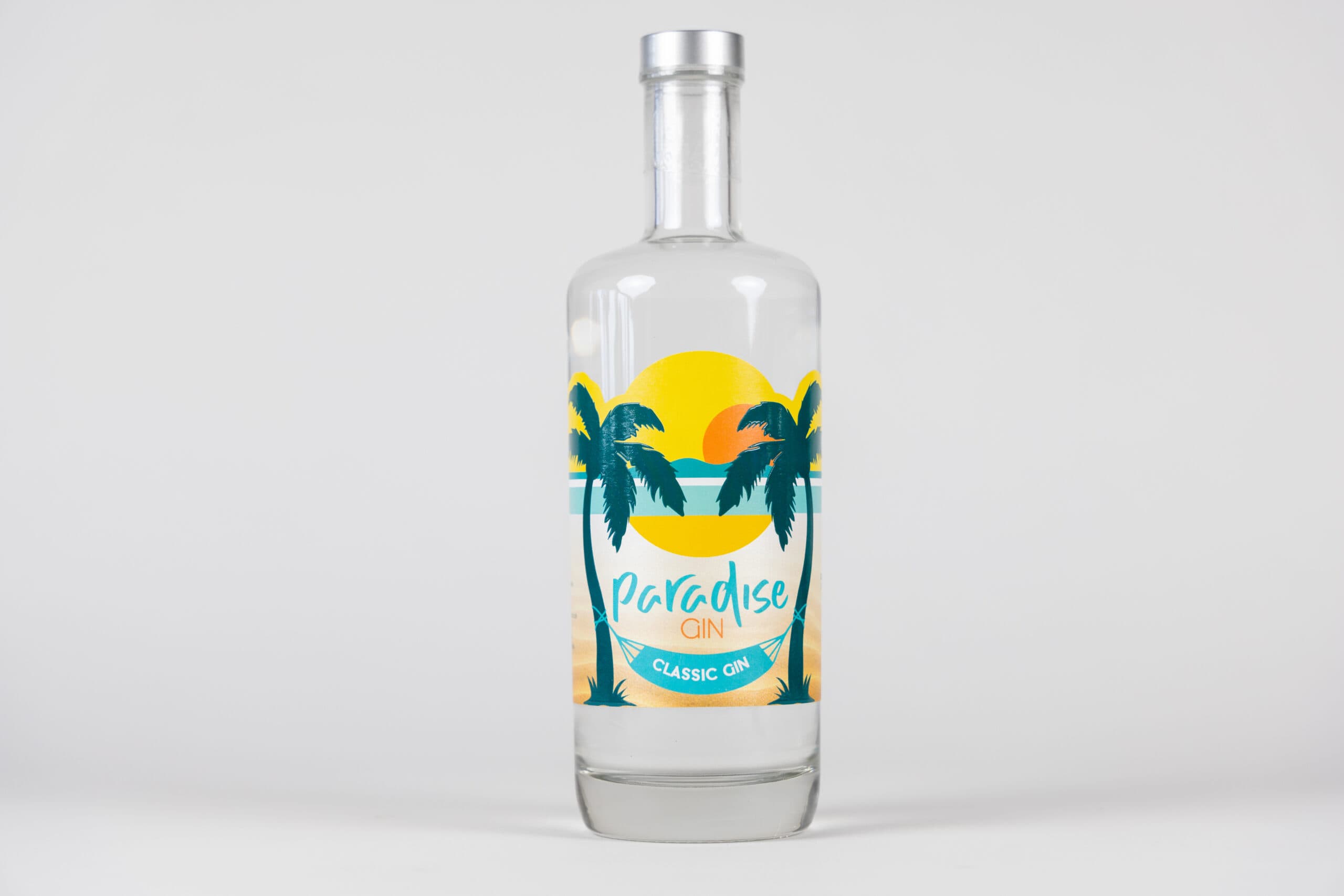 Challenge
At Hally Labels, a referral is the sincerest form of flattery. So we were thrilled to learn one of our customers had recommended start-up distillery Paradise Rum contact us for labelling assistance with their debut range of spirits. 
Warana-based couple Chris and Cathryn Clyne wanted to bring the fun into rum. From there they hatched the plans for Paradise Rum, a bar and distillery located in the picturesque Sunshine Coast region of Queensland. Whilst doing their market research, Chris and Cathryn discovered they wanted their product to look different to what was already available and gave us a call for some assistance.
Solution
Multi-Color (Brisbane) Account Manager, and Sunshine Coast frequenter, Allen Ford was quite chuffed to learn he had been referred to the Paradise Rum team.
Allen met with Chris, and Dachboard creative designer Chole Tremble, and presented them with our Signature Collection for inspiration. Our Signature Collection is a portfolio of our capabilities, materials, embellishments, and innovations, designed to inspire creativity. The team paid particular attention to the textured papers and were immediately drawn to the unique finish of the Pearlescent Patterned Paper. This premium textured material has a pearl finish, providing the label with an eye-catching shimmer.
Chris wanted his spirits range to give consumers the feeling of escaping to paradise. Chole designed a beachfront nirvana, complete with a hammock swaying between palm trees and a tropical sunset on the horizon. The custom die shape of the label further enhances the tranquil scene, providing prominence to the outline of the palm trees and horizon design elements.
The Pearlescent Paper had already added an attractive twinkle to the design, however, we really wanted to add a contrasting sparkle to the sand. Our Naseby Ice Varnish was the perfect solution. The Naseby Ice Varnish contains specialized pearlescent particles that glitter as they catch the light. The finish is also both scuff and water resistant, providing an extra layer of protection to the label.
We printed a high build screen over the two palm trees to give the label extra textural appeal. This premium embellishment uses a silk screen process to provide a tactile effect to key design areas that sits above the label surface. The high build effect provided a contrasting opaque glossiness to the palm trees against the glistening background.
The labels were printed using our digital printing technology. Digital printing is ideal for short runs as no printing plates are required, therefore reducing preparation costs. The ink used in Digital Offset is semi-opaque, which allows for bright and vibrant colors. This is especially noticeable on absorbent papers such as the Pearlescent Patterned Paper.
Result
The result is a stunningly unique series of labels that really "let the fun begin". The inclusion of the Naseby Ice Varnish gives the spirits range a superior edge and transports the consumer straight to a tropical paradise. 
We heard great things about Allen and Hally Labels, and we have not been disappointed in our decision to work with them. Thank you to the team for bringing our label design to life and helping our new brand stand out. Their expertise, service and high attention to detail have all been excellent. We love our labels!
Chris Clyne, Managing Director