Resources
Cases
Purity Seal for Canada's Pure Pilsner
Steam Whistle Brewing set out to make Canada's purest pilsner to give beer lovers an unfiltered experience free of preservatives and additives.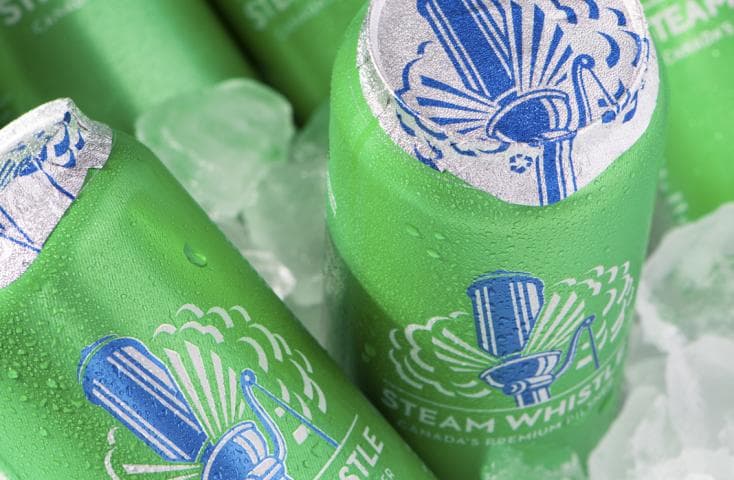 Steam Whistle Brewery
What started as a dream hatched by three friends, Steam Whistle has grown into one of Canada's largest and most beloved independent breweries.
Committed to brewing pilsner the way it's been made for centuries, the premium pilsner is brewed using just four all-natural ingredients: pure spring water, malted barley, hops and yeast.
As a progressive brewery, Steam Whistle seeks the best solutions to ensure the consumer enjoys an optimal experience when drinking its beer. Although convenient, drinking straight from a can is sometimes considered unhygienic and Steam Whistle required a drinking experience as pure as its beer. Multi-Color had the perfect solution in the form of Smart Top Foil can lid labels which sit on top of the can, protecting the drinking area from dust and germs. Steam Whistle refers to this as its Purity Seal.
"From the inception of Steam Whistle beer, our goal has always been two-fold: exceptional quality and total transparency…. that's why Steam Whistle Beer uses a purity seal: to make sure your beer is as fresh and unsullied as it was when it left the brewery."
Tim McLaughlin, Vice-President of Marketing for Steam Whistle, explains: "Our purity seal ensures that your can remains free of potential contaminants it may pick up during shipping and storage before you buy it. When you open that can, we want your Steam Whistle to be as pure as it was when it was filled."
Sanitary and Sustainable
For Steam Whistle, Sustainable practices are high on the agenda, making the Smart Top Foil label a perfect fit. The label is 100% recyclable; therefore, the whole package, along with the container, can be completely recycled after use.
After all, quality beer is not truly a quality beer if it is a burden on landfills and our world.

Tim McLaughlin, Vice-President of Marketing for Steam Whistle
Maximized branding
Besides protecting the can closure against contamination, the Smart Top Foil label also provides additional branding space.  The printable foil offers an additional advertising area, and thus a multitude of options for flexible support for advertising campaigns, promotions, special events, re-launches and more. Even if the can is placed vertically in a cooler, the Steam Whistle brand is readily visible.
Technical support
Steam Whistle worked closely with both Multi-Color and Krones to develop an aluminium can lid label suitable for its beer and installed a Krones Taxomatic labeller in its Toronto-based Brewery.
Steam Whistle beer is not pasteurized so the can arrives at the labeller cold and wet. This was one of the first cold & wet Smart Top Foil label applications, which presented a few teething problems relating to the amount of glue required.  Technical experts worked closely with Steam Whistle to rectify the issue. This included multiple brewery visits in order to refine the process. The Smart Top Foil label now provides excellent performance on wet and cold cans thanks to a proprietary lacquer developed by MCC. The result exceeded expectations and Steam Whistle now uses less glue than initially anticipated, running at full speed with improved label adhesion and most importantly, an improved consumer experience.