Resources
Cases
Rivella – Innovative Tradition
The labelling industry has been traditional in terms of manufacturing processes for a long time. That is, until now – Rivella is talking about a revolution in this area.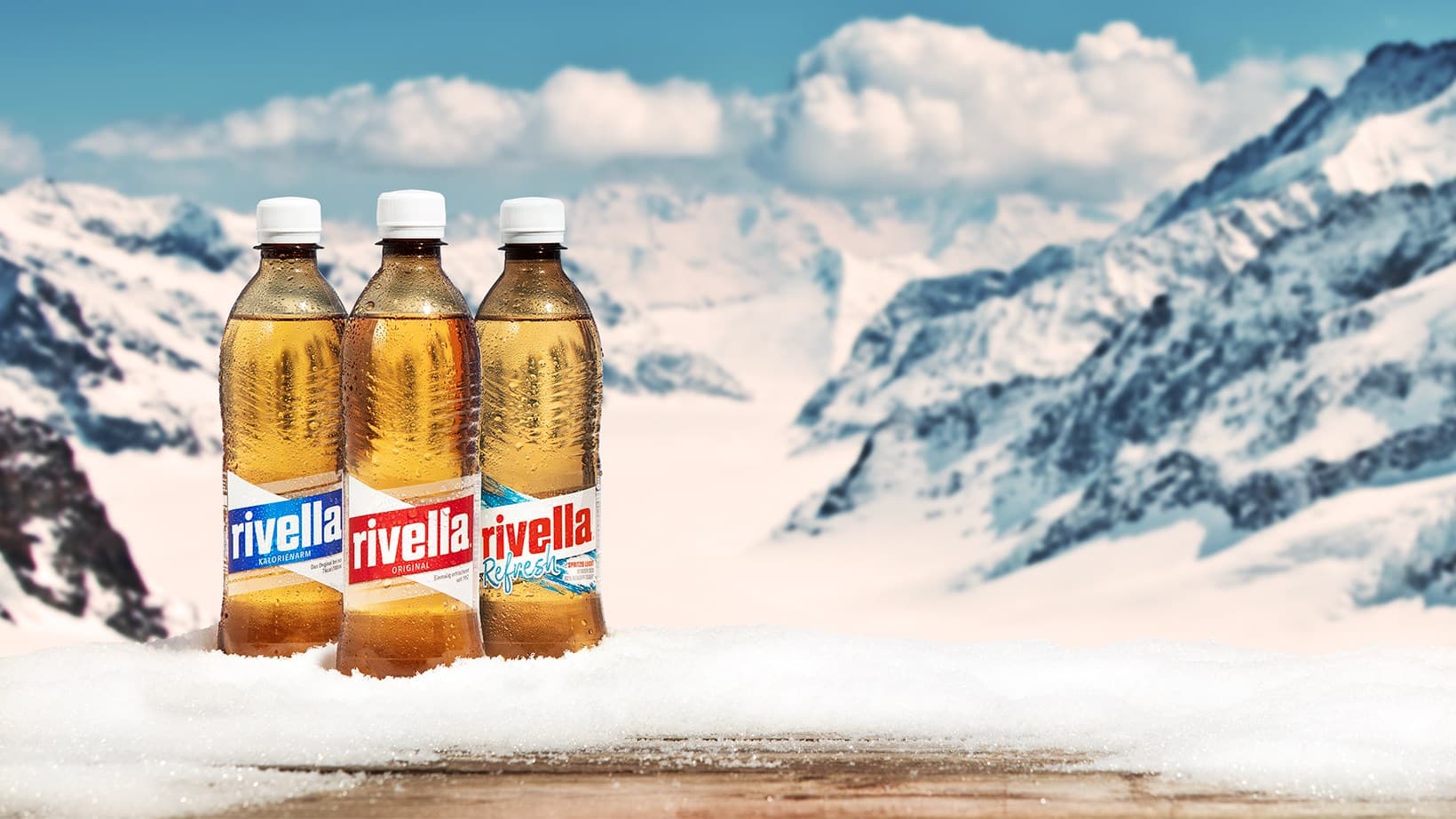 Wrap-around labels based on thin BOPP foils – white-opaque, transparent, or metalized – are the bread and butter of the soft drink beverage industry. The whole value chain is targeted at cost efficiency and performance. Generally speaking, there is not much room for innovation reaching beyond the annually exercised struggle for further cost saving within this force field. Nevertheless, a turnaround could be observed over the last months. For wrap-around labels can be much more than just a more or less beautifully printed sleeve being wrapped around a PET bottle in a not-very-exciting procedure. Those who keep an eye on the markets will notice some very interesting examples of truly exciting product innovations.
Dynamic appearance with precision
The most recent example attracting attention is Rivella of Switzerland's new appearance. Their PET bottles' new design is young and dynamic, bearing a completely redesigned wrap-around label. The bottle's texture with its distinct lines symbolizes the mountains in Switzerland. It is the same cross-design that was used for the contour-punched label – being the actual eye-catcher of the new bottle. The label's punched outer contour has been precisely customized to the bottle's texture.
We had a vision: after intensive discussions and including our suppliers we managed to bring it to life. This has never happened before in the beverage industry; it is an actual innovation. The greatest challenge was the bottle's perfect alignment in production, so that labels are always positioned exactly.

Heinz Hohl, Head of Supply Chain, Rivella AG
Therefore, label production at Multi-Color Hann. Muenden Germany is no longer as trivial as with conventional wrap-around labels. The production process of the inline-rotational punched and fabricated label rolls makes high demands on the manufacturer, as narrow tolerances must be complied. The coordination of tools and materials requires the highest precision to punch the transparent OPP label material pin-sharp and keep tool wear to a minimum.
New label generation
This innovation could be the breakthrough for a new generation of wrap-around labels. Leaving well-worn paths and having the courage to use contour-punched wrap-around labels for this kind of neck labelling for the first time is the merit of Rivella AG. Our greatest challenge was to ensure the narrow manufacturing tolerances, thus allowing for an undisturbed labelling process.

Gerd Blecken, Head of R&D, MCC Germany