Resources
Cases
Rugged Labels for Scruffy Fella's Rugged Consumers
Scruffy Fella is a small, but emerging Men's Grooming Products and Accessories business based in Victoria, Australia. Their main point of differentiation is that all their Beard Oils, Beard Butters, and Tattoo Butters are handmade by the owner and artisan, Nigel Bullamore.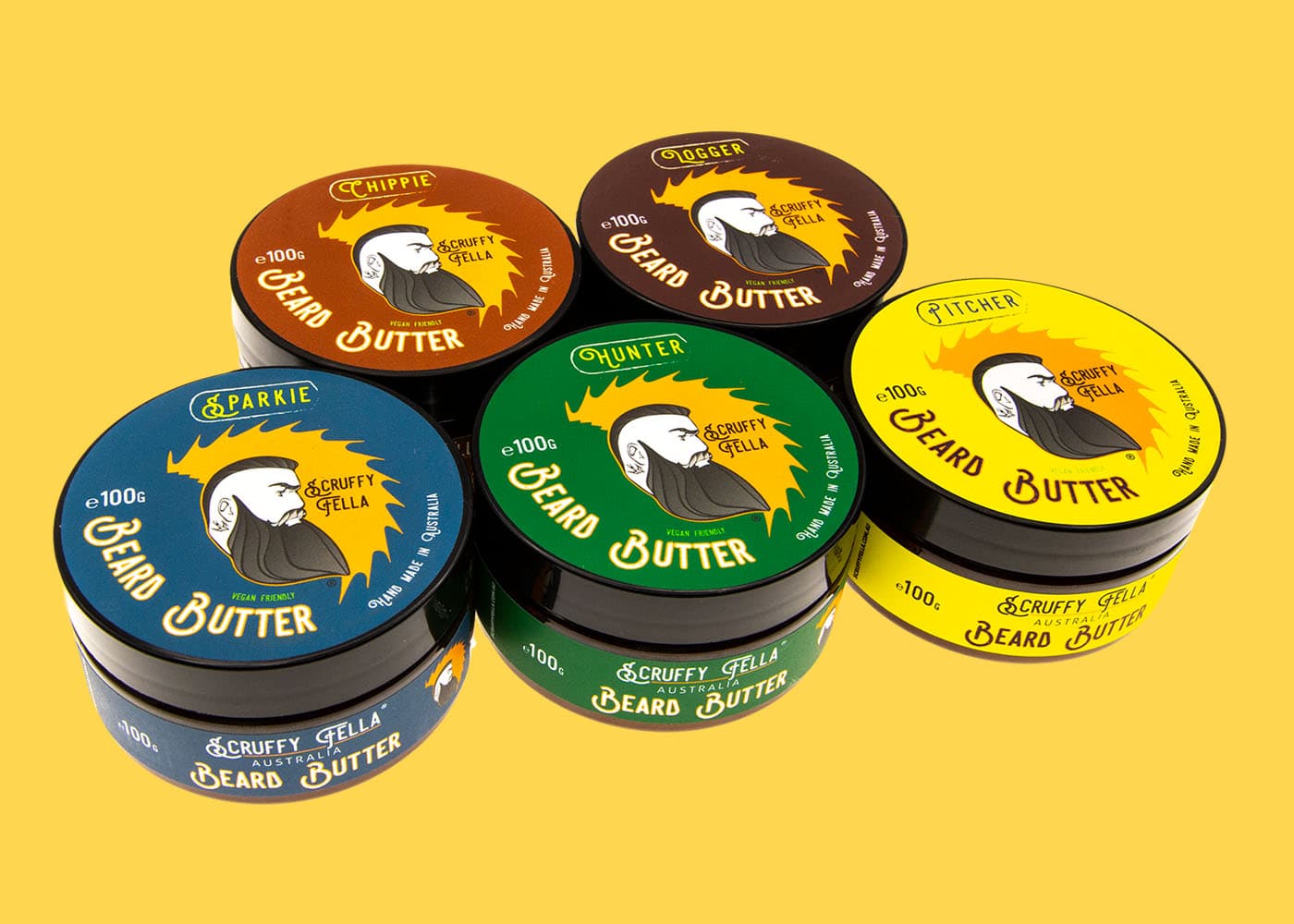 Gaining back valuable time
As Scruffy Fella became more successful and expanded their market, the need to offload some activities became essential for Nigel. He was previously spending a lot of time on short run labels for his core products that occasionally gave different results. To regain time best spent on manufacturing and developing product, Scruffy Fella engaged MCC's Melbourne facility. The Melbourne facility was then selected to print, cut, and supply a redesigned label that included store-ready barcodes and vibrant vector artwork.
I researched MCC's website and was comfortably reassured by the amazing real photos of their work. I also spent time reading their Diversity and Inclusion statements along with their commitment to sustainability. I knew from this and a glowing reference from a customer, that MCC would be a great fit for my brand.  MCC was the perfect partner to allow me to focus on the revenue generating activities I needed to.

Nigel Bullamore – Owner and Artisan at Scruffy Fella
The perfect touch
Once the first labels were created, Nigel and the Scruffy Fella brand wanted to elevate their labels even further. Since "Scruffy" is right in the name, a textured label was proposed. MCC gave Nigel a few different options of sample labels to get an idea of the different levels of texture that can be achieved. The first range of six Beard Oil 50ml labels were printed with a textured finishing. Scruffy Fella was happy with this label but wanted to continue to enhance the sensory feel. Therefore, MCC worked with the Melbourne production team to print the next run of 30ml labels with the roughest textured finishing possible.
Through many discussions, MCC made sure that they found a solution that would make recoating unnecessary, keeping the labels at one hit of varnish. This saved valuable time and money for Scruffy Fella and resulted in a wonderfully gritty label that would appeal to Scruffy Fella's target audience. With having many variants in the range with names like "Hunter", "Sparkie", "Logger", "Chippie", and "Pitcher" a roughened, sandpaper texture was highly desirable for items that most consumers would be touching and interacting with daily. This extra sensory engagement brings an additional memorable encounter with the product that the Scruffy Fella customer would appreciate.
From the initial engagement to the final product being delivered, the journey was simple and stress free. This was all done during the peak of Victoria's COVID-19 lockdown where I was not physically able to travel to meet with MCC. The simple use of technology to share and approve artwork, express post to receive samples and a few very friendly phone calls made the whole process seamless. I operate with a strong Branding Guideline inside my business that drives my use of certain colors, sizes, and looks. MCC was able to assist me with ensuring that my labels would look and feel great, and that all the technical specification were correct in the supplied artwork. The PDF proofs and sign offs were exactly what I needed to ensure my expectations were going to be met at every stage.

Nigel Bullamore – Owner and Artisan at Scruffy Fella
The path forward
Scruffy Fella's target audience responded well to the new labels and are durable enough to withstand the tough environment that is involved with oil-based products. MCC and Scruffy Fellas are expanding their relationship and developing new and exciting labels that will be launching soon!
I was most impressed by the labels that were delivered, they were the texture, quality, and vibrancy that my customers really responded well to. The durability for a product that is used in the bathroom and is oil based is exceptional. I cannot thank MCC enough for guiding me through my first major print run with confidence. Scruffy Fella will certainly be restocking and expanding our label printing range using MCC in the near future- in fact we are already talking about box production for a new solid cologne range to launch soon.

Nigel Bullamore – Owner and Artisan at Scruffy Fella