Resources
Cases
Spirit Thief
This curated single malt collection from Spirit Thief is a rare series of Tasmanian-released whiskies that have been matured in hand-picked, re-coopered red wine barrels for a distinctive palate, flavour and character.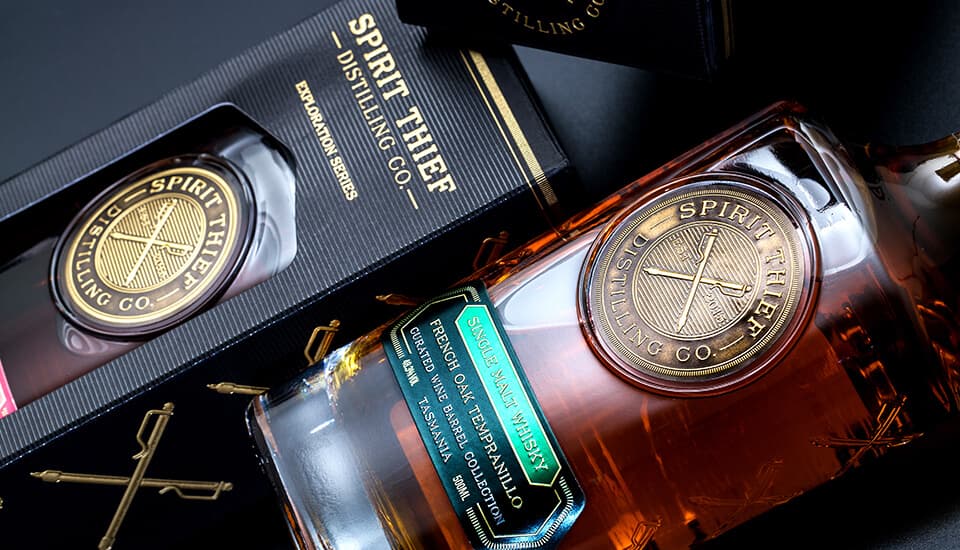 Tucker Creative worked extensively with the brand owners at Spirit Thief forming a collaboration to achieve their vision; producing a premium, and richly constructed brand and package design. The attention to detail exhibited by the label design, bespoke premium packaging and custom embossed glass, accentuates the overall presentation, culminating into an attractive, and unified presentation for the brand, and rewarding the curiosity of customers.
The unmistakable branded heavy metal labels were produced at MCC, and carry the brand aspirations to a growing legion of followers, and both the distinctly coloured varietal label and roundel are accented by heavy-embossed detail, bringing tactility and interest.
While the range of unique, limited edition single malts by Spirit Thief continues to expand, the consistency in presentation will continue to promote familiarity and inspire confidence in a growing legion of dedicated customers.
Label information
Producer – Spirit Thief

Designer – Tucker Creative

Varietal – French Oak Tempranillo / American Oak Shiraz / American Oak Tempranillo

Region – Tasmania

Printing Press – Digital and Conventional

Stock – Heavy Metal

Embellishments – Emboss & Sequential Numbering