Resources
Cases
World-class ice cream Mackie's of Scotland introduces unique Orange Peel IML label
Mackie's of Scotland isn't just any old 'ice cream': the company has been making dairy products in a special manner since 1986 on the family farm, by focusing on sustainability and great taste. This green focus is demonstrated throughout the entire process, including the IML packaging.
"Innovation is incredibly important at Mackie's of Scotland," says Karin Hayhow, Marketing Director at Mackie's of Scotland. "We are constantly looking for new ways to optimize our business and brand. In the words of our late chairman: "No change, no chance!"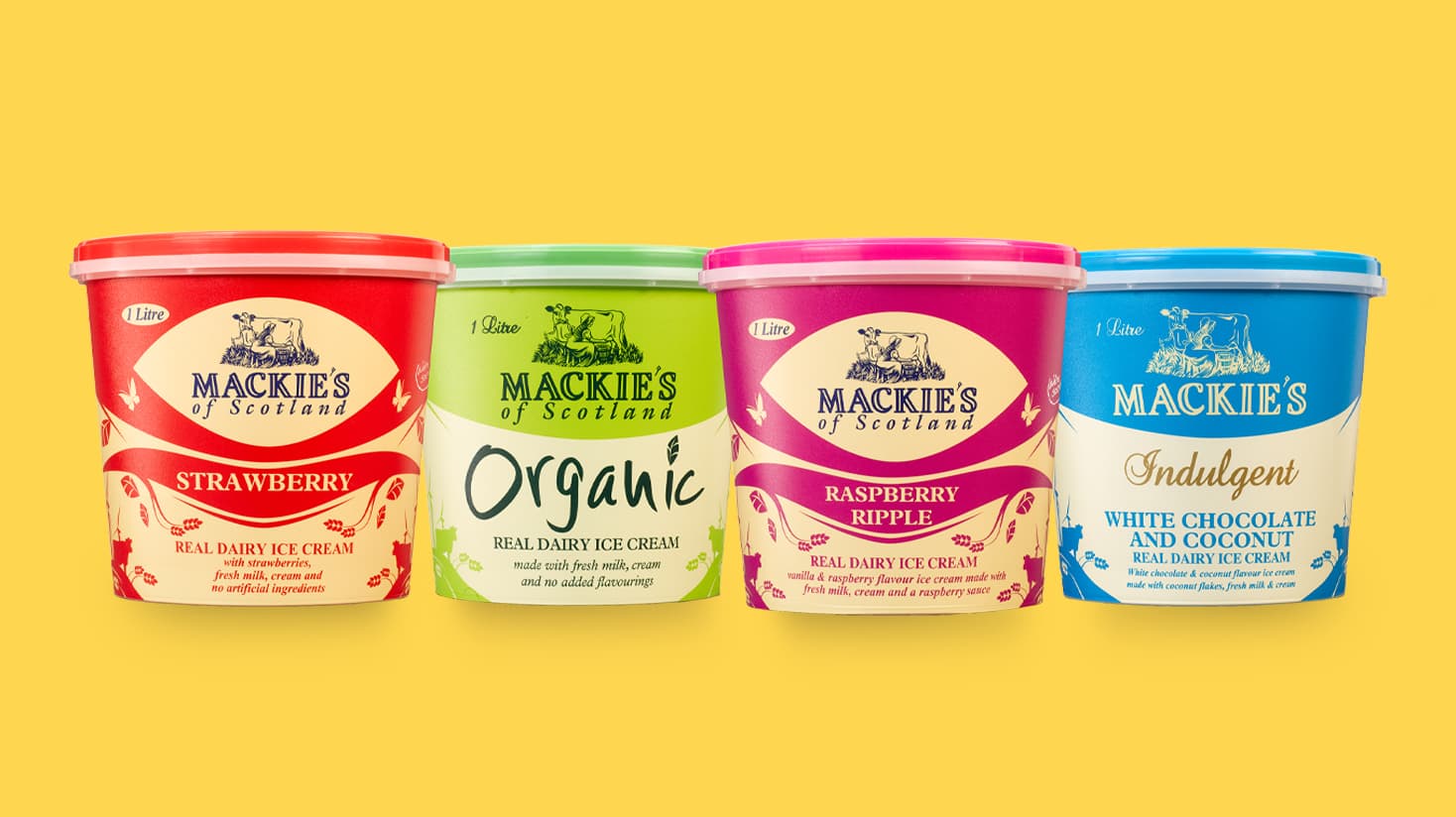 Fresh and natural ingredients
Karin Hayhow: "The fresh milk is immediately taken from the cowshed to the production unit on the farm, where it is turned into ice cream within 24 hours. We freeze the ice cream quickly to achieve small particles and a smooth texture. The natural ingredients ensure that optimum flavor and quality are maintained. Our most popular ice cream is still our 'Traditional' which is a natural creamy ice cream – with no added flavoring. Any extra flavoring ingredients, like bits of fruit or honeycomb, are added to the base mix at the last minute to create our range of flavors. Naturally, our products are rigorously tasted and tested throughout this entire process."
Mackie's of Scotland invests in renewable energy
Mackie's generate renewable energy, from a mix of wind, solar and biomass to power the business, which works very well because Scotland is the windiest country in Europe! The tub design includes icons to show the cows and the wind turbines. "We aren't sure how much of an impact the generated wind energy has on the flavor of our ice cream," laughs Karin Hayhow, "but just the idea makes our consumers feel good, and that's very important to us!"
Quick design changeover using IML
The packaging process ties in with the quality and sustainability story being written here. Originally, the packaging for Mackie's of Scotland products was produced in Sweden, but due to the ecological footprint of the transport process, the company decided to buy its own injection molder for its one and two-liter IML packaging. It was an investment of over 1.1 million euros, but it also saves over 50,000 food miles (and that's worth a lot of CO2 per year).
But why use IML packaging? Karin Hayhow: "The tubs look good – and we can use full color to very high definition quality! Being in charge of our own production gives us flexibility – so we can very easily change the label design using this decoration technique and maximize the communication opportunities on pack. That's a big plus in Mackie's of Scotland's book: it lets us quickly shift things whenever we want to launch a new design or new promotion. Moreover, the in-mold labels are moisture-resistant and can withstand major temperature fluctuations – perfect for decorating plastic packaging for frozen and refrigerated products."
It's no coincidence that Mackie's of Scotland contacted MCC Verstraete: sustainability is a priority for both companies. 
Just like Mackie's of Scotland, we believe that sustainable development is incredibly important. After all, in in-mold labeling, the packaging and label is made of the same material, which creates a homogenous result that can be fully recycled, and we can give the raw materials a lifespan that is as long as possible. 

Jan Van Iseghem, Regional Sales Manager for Northern Europe at MCC Verstraete
Orange peel look & feel option"Mackie's of Scotland very specifically chose the orange peel look & feel option," continues Jan Van Iseghem. "In this most well-known IML technique, also called satin gloss, the labels are created using a multilayer substrate and polypropylene foam in the center. Some of the air in the substrate escapes due to the use of high temperatures and pressures during the IML process. This creates the orange peel effect."
These innovative packaging solutions will make our products really stand out on the shelves," says Karin Hayhow decisively. "That's very important to Mackie's of Scotland because we have a modest marketing budget. With the right packaging, our products will jump off the shelves, catching the consumer's eye."