Resources
Cases
Barrier IML lets you enjoy your daily cup of Ella Cappuccino for longer
Ella Cappuccino espresso capsules are very popular in South Africa. One of the main reasons behind that fragrant success story? Verstraete Barrier IML labels. Thanks to the oxygen barrier IML labels, the flavors and aromas remain intact for much longer.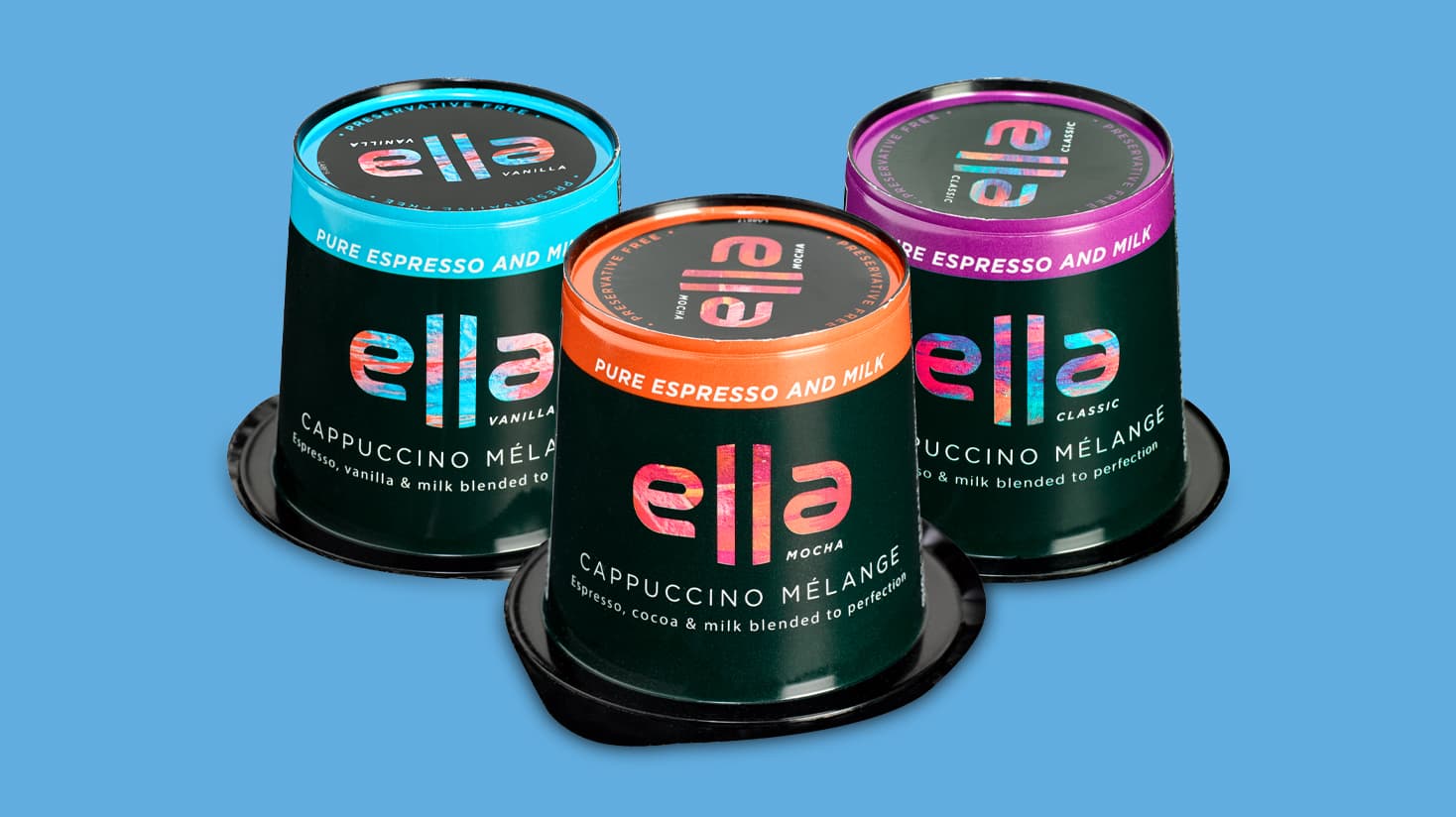 No flavorings or preservatives
Are you traveling to South Africa soon? It's the perfect excuse to try an Ella Cappuccino. It's a blend of roasted liquid espresso and low fat milk. You will find the fragrant espresso at retailers, in numerous B&Bs, safari lodges, and hotels. Some airlines even offer you one during your flight.
"The launch got off to an encouraging start," says Etienne Pretorius of Polyoak Dairypack Tubs. He worked closely with Star Gate Innovations and MCC Verstraete on developing the Ella Cappuccino capsules. "It's been a fruitful partnership," muses Joe Kaddoum, Regional Manager for Middle East & Africa. "How does Ella Cappuccino retain its characteristic flavors and aromas? The IML oxygen barrier labels prevent oxygen from entering the packaging, thus extending the shelf life and the aroma of the cappuccino."
"And that doesn't leave fans of a tasty cup of coffee cold," Etienne Pretorius adds. "Because this packaging doesn't give oxygen a chance. So, the producer does not need to add any flavorings or preservatives. The result? Ella Cappuccino can now be kept in the packaging for up to twelve months longer."
It should therefore come as no surprise that Star Gate Innovations is more than satisfied with the new coffee capsule. Neil Hellmann of Star Gate Innovations: "We introduced our Vanilla, Mocha, Classic, and Variety flavors to the South African market in January 2019. Ella Cappuccino is patented and available in packs of 3 capsules of 75 ml. Numerous chain stores immediately stocked up. We only produce larger packaging for airlines. This way, our clients can also enjoy their trusted Ella Cappuccino at great heights." Neil continues: "This is a real 'on-the-go' product: all you need is boiling water, or try it over ice with cold water. Simply shake your Ella capsule for 20 seconds, break open the seal, pour the liquid into your cup, and add water. Really easy!"
Shelf life extended by twelve months
"MCC Verstraete has developed two types of Barrier labels," Joe Kaddoum explains. "Light and oxygen barrier labels. The latter guarantees exceptional storage qualities of the Ella Cappuccino with a special EVOH layer. This layer reduces the Oxygen Transmission Rate (OTR) value and keeps oxygen out of the packaging for longer. This way, the flavors and aromas remain intact for much longer." says Neil Hellmann.
The cappuccino capsules are completely recyclable. 

Neil Hellmann, Star Gate Innovations
"And they can be sterilized at up to 118°C without deforming. To withstand the sterilization process, IML labels consisting of a special retort-proof O2 barrier film and custom printing were used. In addition, each capsule guarantees maximum milk frothing when shaken, thanks to the unique foaming device shaped as an ambigram of the logo, and is completely empty when poured out. We are proud that our packaging received a gold medal in the food category at the Gold Pack Awards 2018."
"Our IML technology also won a few prizes," Joe adds. "The high performance in terms of oxygen reduction in the packaging earned us the World Star Award 2019. On top of that, we also were awarded the 'Best Part Design 2019' by the In-Mold Decorating Association (IMDA).
It's a win-win all around. Manufacturer and packaging specialists look back on a successful innovation. What's more, the South African coffee lover has an extra product to choose from. Don't feel like visiting a coffee bar? You don't even have to leave your home any more, thanks to Ella Cappuccino. Thanks to the IML packaging, you can now enjoy your favorite cup of coffee even longer.