Resources
Cases
Herr's latest pretzels in heavenly IML packaging
How do you give a traditional pretzel an irresistible and trendy look? That was the challenge faced by brand owner Herr's, a leading company in the snack food industry. It put its most recent creation into eye-catching, unique, luxurious IML packaging with a refreshing mix of Matte and UltraGloss IML. Get acquainted with the tastiest and most attractively packaged pretzel in the world!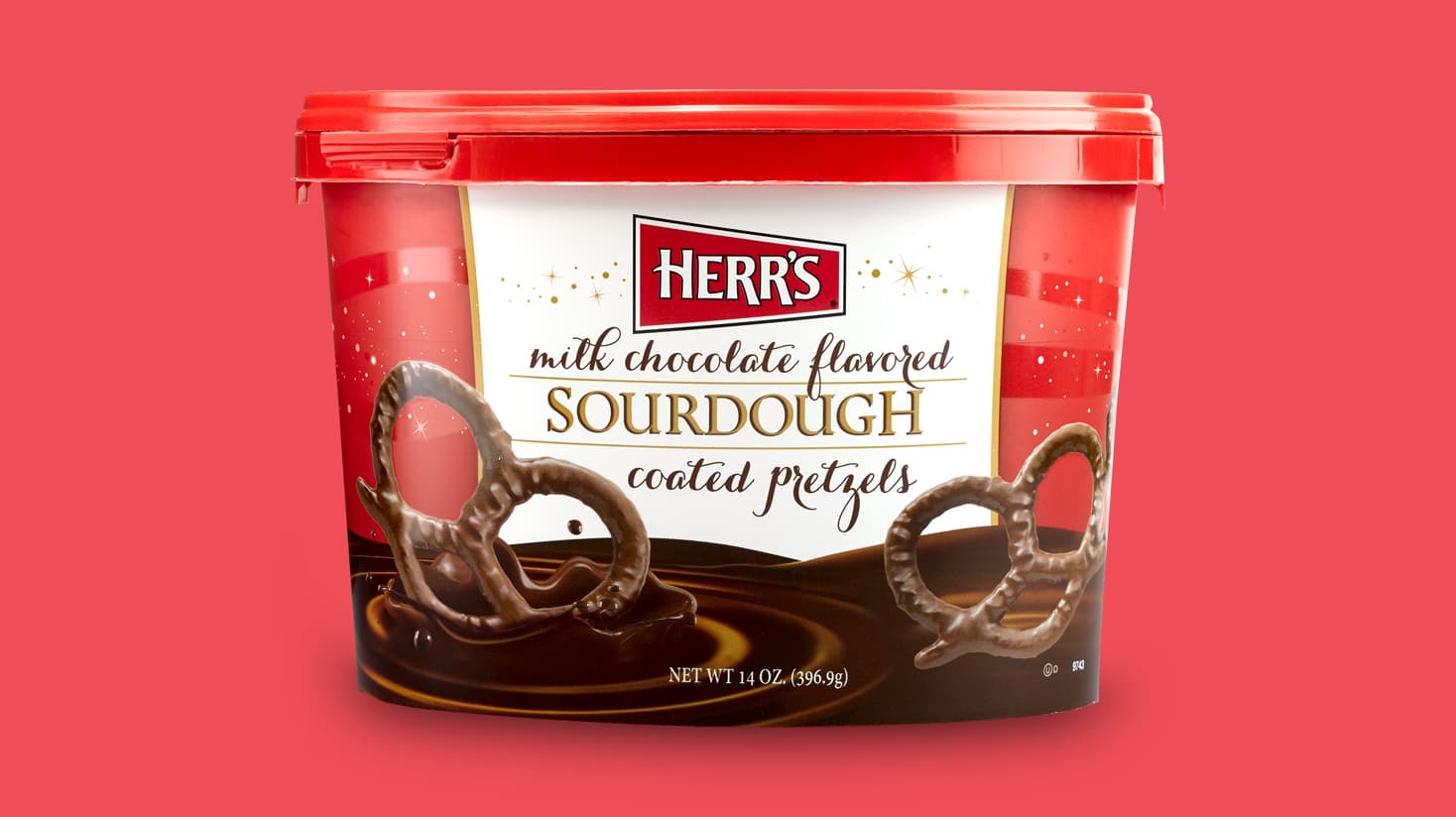 Crunchy and sweet
Brett Fortley is the packaging graphics manager at Herr's. He was looking for original packaging for this latest product, a crunchy pretzel dipped in smooth milk chocolate. "Our line of pretzels ranges from traditional wheat pretzels to an assortment of sourdough pretzels," says Laura Gunden, marketing manager at Herr's. "This time, we're dipping our authentically aged sourdough pretzels in creamy chocolate. Our sourdough aging process is unique and results in a fantastic flavor and the perfect crunch."
The combination of a crunchy pretzel with the delicious taste of chocolate will delight all those with a sweet tooth. Therefore, this delicious product deserves an equally delicious visual image.
A glossy pretzel in brilliant packaging
Fortley is enthusiastic about the packaging design for the latest Herr's creation.
"We opted for Matte packaging with UltraGloss IML accents so that this product is guaranteed to stand out on the shelves. This exclusive packaging helps us effortlessly distinguish our products from those of our competitors. 

Brett Fortley, Packaging Graphics Manager at Herr's
The creative team brainstormed over the smallest details. "This way, the glossy layer of milk chocolate around the pretzel is reflected in the high-gloss lacquer that decorates the packaging. This is our way of giving the chocolate-covered pretzels and the graphic arches in the background a touch of gloss." The innovative overall picture gives the product a high-quality appearance. Moreover, the sturdy IML packaging is a smart move because it protects the pretzels from breakage, which is more difficult when using flexible packaging. The surprising packaging design is currently only available in stores on the East Coast of the USA.
IML creates packaging that's outside the box
Herr's opted for experienced injection molder Jokey Plastics to create the IML packaging. Everything went according to plan. "We processed the innovative IML in the same way we'd process a standard IML from MCC Verstraete," confirms Andrew Greenawalt, North America Sales Manager at Jokey Plastics. The company has nothing but praise for the partnership with MCC Verstraete. "Its experience and knowledge of IML are vast and unique. But creativity is what makes this IML supplier so attractive. Are you looking for a surprising approach? Then MCC Verstraete is your ideal partner."
Striking accents for a luxurious look
Brian Fleming, North America Sales manager at MCC Verstraete, is also pleased with the result. "IML offers endless possibilities," says Fleming.
The packaging for the Herr's chocolate-covered pretzels is characterized by magnificent accents in UltraGloss IML.
The concept was a smart move because the product immediately stands out on store shelves. "We achieved some impressive results by playing with contrasts. Combining Matte IML with accents in UltraGloss IML or Metallic IML give your packaging a luxurious look," explains Fleming."The attractive appearance is also reflected in strong sales figures. We can say that both Herr's market identity and market share have improved thanks to the expertise of IML supplier MCC Verstraete." says Fortley.