Resources
Cases
Mumm Art Limited Edition
This year, Mumm launched its fifth Art Edition visualized by renowned German photographer Kristian Schuller. The sparkling wine brand opted to use photographs as the basis of the label design on this limited edition.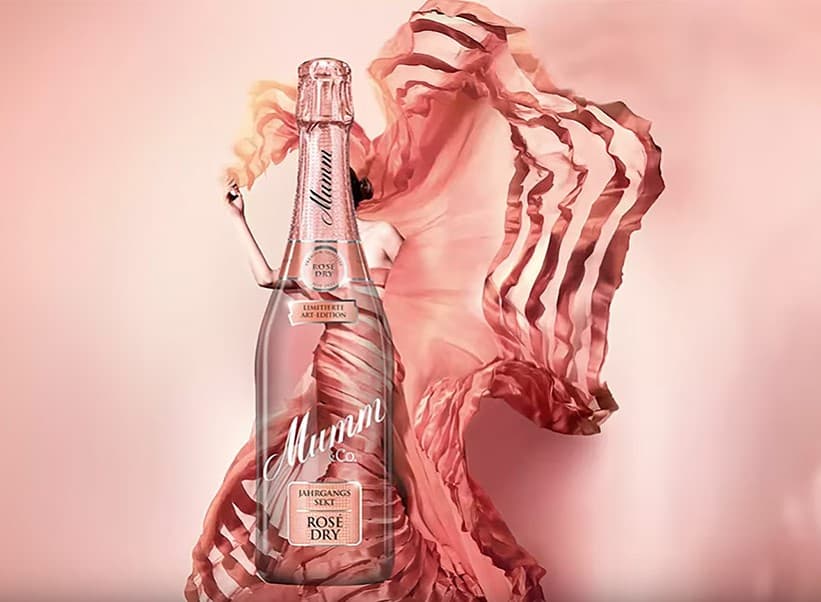 Renowned for his fashion photography, Schuller used the elegance and detail of three dresses to transform the labels into pieces of art. The dress materials were selected to accentuate the personality of each of the three flavours – Mumm Dry, Mumm Extra Dry and Mumm Rosé Dry. Movement brought the fabric to life, allowing 3,627 images to be captured and transformed into three elaborate label designs.
Mumm have worked with MCC Germany on previous special editions and knew they could rely on the team for their latest creative project. With the benefits of 360° graphics, Shrink Sleeve labeling offered Mumm the perfect canvas to showcase the artistry of fashion photography.
Shrink Sleeve is a highly valuable labeling method proven to establish connections with consumers at the point of purchase and, most importantly, to drive sales. MCC's team in Germany are industry experts in Shrink Sleeve technology. Key Account Manager Marc Scherer led the project alongside his team of pre-press, R&D, technical and printing specialists.
Dressed from head to toe in three stylish designs, the bottles exude elegance and grace and add a touch of excitement on the shelf.
At MCC we are engaged with the project from concept to completion – via meetings, conference calls and press approvals we make sure we're always on hand for the customer. A number of factors need to be considered when designing a label for shrink technology. We worked with several departments at Mumm including purchasing, marketing, technical and even the art director, in order to deliver exactly what was envisaged for the brand.
Marc Scherer, Key Account Manager, MCC Germany