Resources
Cases
ReseaLabel™ Provides Ultimate Convenience
Are you interested in resealable packaging for your next product launch? Look no further than MCC's ReseaLabel™! This packaging solution has multiple advantages for consumers, brand owners and converters. All our ReseaLabel™ solutions are customized to your specific product and packaging type. Here is a great example of how ReseaLabel™ is a perfect solution for cleaning wipes.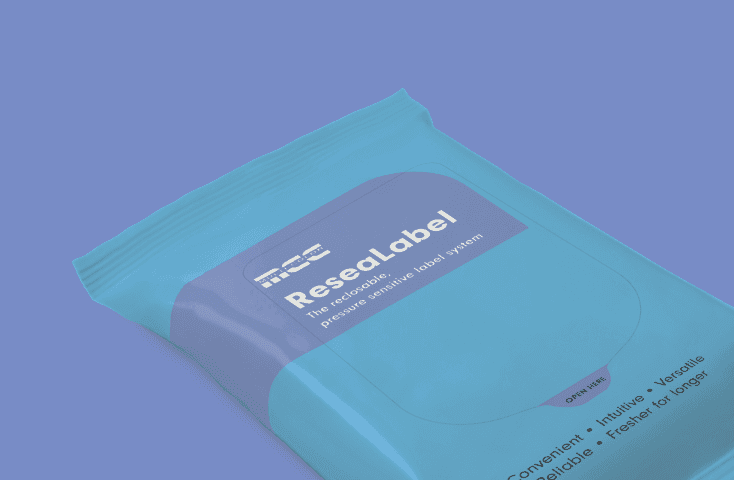 The challenge
Wipe products require functional resealable labels that can open and close numerous times to keep the product fresher longer, withstand the liquids (oil, water or chemical) of the product, and keep the product'smoisture from evaporating.
The solution
Using proprietary equipment, MCC prints and applies a pressure sensitive label to pre-printed flexible film. The film is then die cut to provide the consumer with a reclosable feature. This process creates ReseaLabel™! You can customize the size, have multiple adhesive options and it can be printed in up to 8 colors. It gives the consumer convenient access to your product and is easy to use. It Is even durable enough to withstand considerable strain from various processes.
The result
ReseaLabel™ provides convenient access to your product and is simple, intuitive and easy for the consumer to use. There is no need for additional steps or manual closure ties. The peel-tab directs your attention to the die cut opening and is intuitive to use. Opening and closing packages in this manner is simpler and easier than press & seal zippers. Closing the packaging doesn't require the strength or dexterity that other types of reclosures do. Our ReseaLabel™ is also more reliable and consistent than a perimeter peel-reseal, having a wider reseal area and high-performance adhesive. In addition, it allows for consistent reclosures to help maintain freshness without requiring a separate clip or fastener. Fresh cleaning products provide a better consumer experience, reducing waste and encouraging repeat purchases.